Setting up Modules
Setting up Navigation
Multiple options for accessing items can be confusing for students; keep the Navigation menu brief and use Modules to present pages, quizzes, assignments, discussions, and files.
Include in navigation:
Home
Announcements
Syllabus
Modules
Zoom
Media Gallery (Note that any Zoom recordings using the Canvas Zoom tool will be stored here)
Grades
Library Resources
Attendance (if using)
Hide in navigation (recommended):
Pages
Quizzes
Assignments
Discussions
Files
Outcomes
Conferences (unless using)
Attendance (unless using)
Chat (unless using)
Other functionality (VoiceThread, Piazza, etc. unless using)
Setting up Calendar
Set due dates for items so that they appear on the Canvas Calendar. Alert students that color coding their course "cards" on the dashboard will color code the respective assignments for those courses in the Calendar.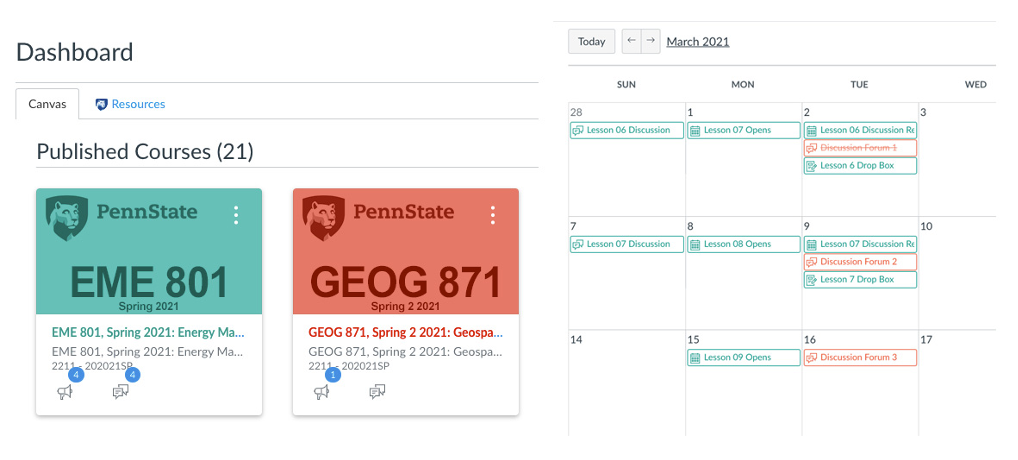 Other Setup Recommendations
Announcements: Use an announcement to tell students where to start in Canvas.
Naming Conventions: Be descriptive: NOT 'screenshot-2021-03-04.png' BUT 'earths-water-cycle.png'
Notifications: Have students set communication options and notification preferences.
Assignments: Include the assignment prompt, due date, rubric, and "drop box" in a single assignment.
More Information
For more information, see the Canvas Learning Path or the Flexible Instruction Teaching Guide.