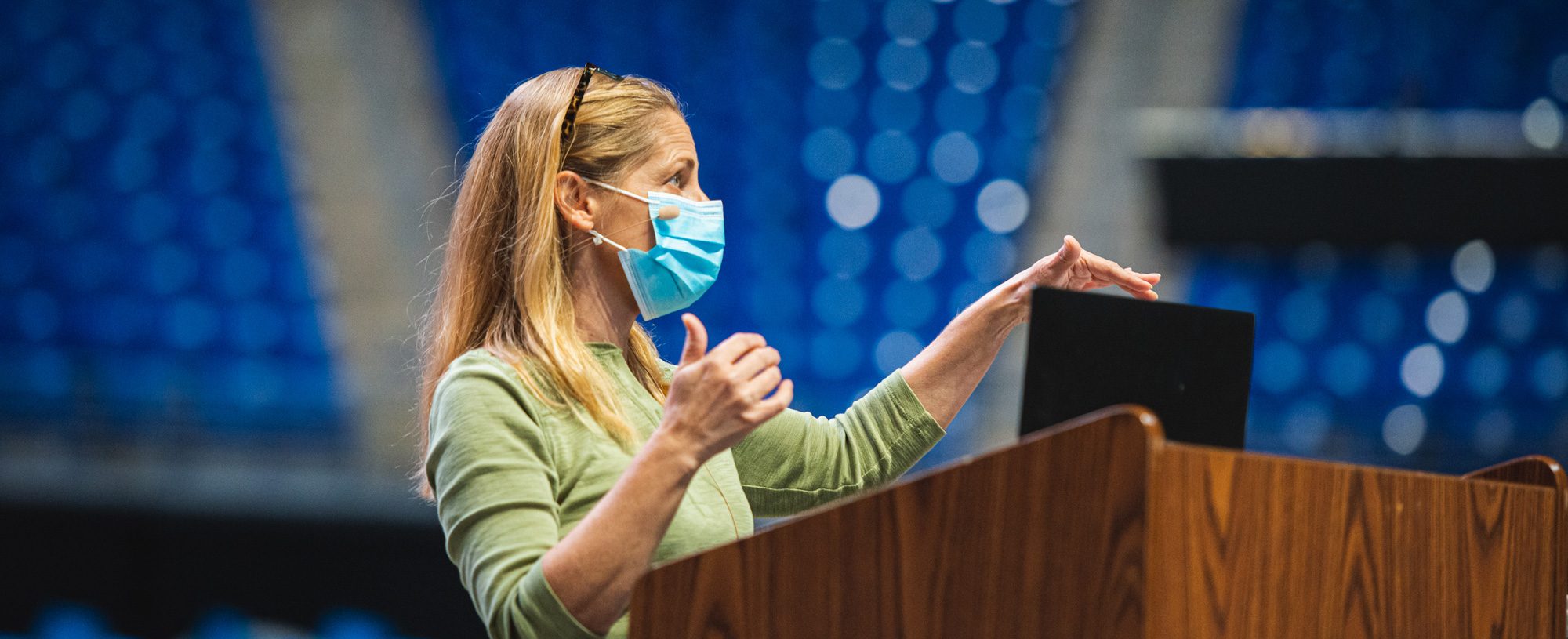 Engaging students fully in college experiences contributes to meaningful learning and personal development. Student engagement includes connecting with instructors, with course content, with individuals and groups of peers, with the campus community, with their own sense of wellness, with civics, and with many other opportunities for growth.
The following resources have been curated by educational developers, instructional designers, and student support services personnel and were reviewed by faculty throughout the University. They are offered in the spirit of supporting instructors who aim to engage students in making the most of their education. Resources are organized in the following categories of engagement:
Engaging Students during Class
Teaching during a pandemic makes engaging students in class challenging. Here, we offer our top-five resources to provide ideas about connecting students with you, with your course content, and with their peers in your courses.
---
Engaging Students during Office Hours
Student attendance at office hours often seems elusive, even in normal instructional times. The good news is that students are seeking connections. Younger students, especially, want to know their instructors. Consult the following resources for enticing students to make use of this long-standing way to connect with instructors.
Holding Virtual Office Hours
Suggestions for instructors regarding where to post office hours times, when to schedule, how to set the stage, and creative uses of office hours, from the Flexible Instruction Teaching Guide
Office Hours: Guidance for Instructors (DOC)
Considerations for accommodating students in various time zones, enticing students to attend, and more
---
Engaging Students with Study Groups and Learning Resources
Students face unknowns and disruptions during a pandemic, making studying challenging. Refer to these resources for assisting students with learning.
Virtual Study Groups: Guidance for Faculty (DOC)
A guide for faculty, highlighting the importance of student collaborative learning (especially during the pandemic) that includes study group considerations, technical how-to's for setting up group spaces, and additional resources
---
Engaging Students in Pursuit of Wellness
Instructors can play a critical role in connecting students to online tools and campus resources to support their health and wellness.
Red Folder
Online resource guide for faculty and staff to help students in distress
Student Care and Advocacy
Central office that coordinates efforts with campus partners to assist students who encounter challenges or concerns
---
Policies, Guidelines, and Recommendations